How do we build back better? Or, in the case of property owners and contractors, just build better? This is an issue which has exercised the industry for quite some time, not just since the pandemic. The challenges of ensuring sustainability, flexibility, futureproofing and dealing with the lag between R&D and the building hitting the market all come into sharp focus, even more so in our post-Covid world. It also brings into play the wider issue of a building's life cycle and how carbon is accounted for over the life of a project, an issue where much progress is still needed.
As property investors we are well versed in the process of evolving a design, planning, procuring, construction and leasing. When it comes to sustainability, one of the most important challenges our sector faces is enshrining flexibility into developments – designing in capacity to adopt new technologies, upgrades that reflect changing occupier demands and new methods of reducing a building's carbon impact. In buildings a degree of patience is required which does not impact all industries in quite the same way. Consider our 19-35 Baker Street which has been long in the design process.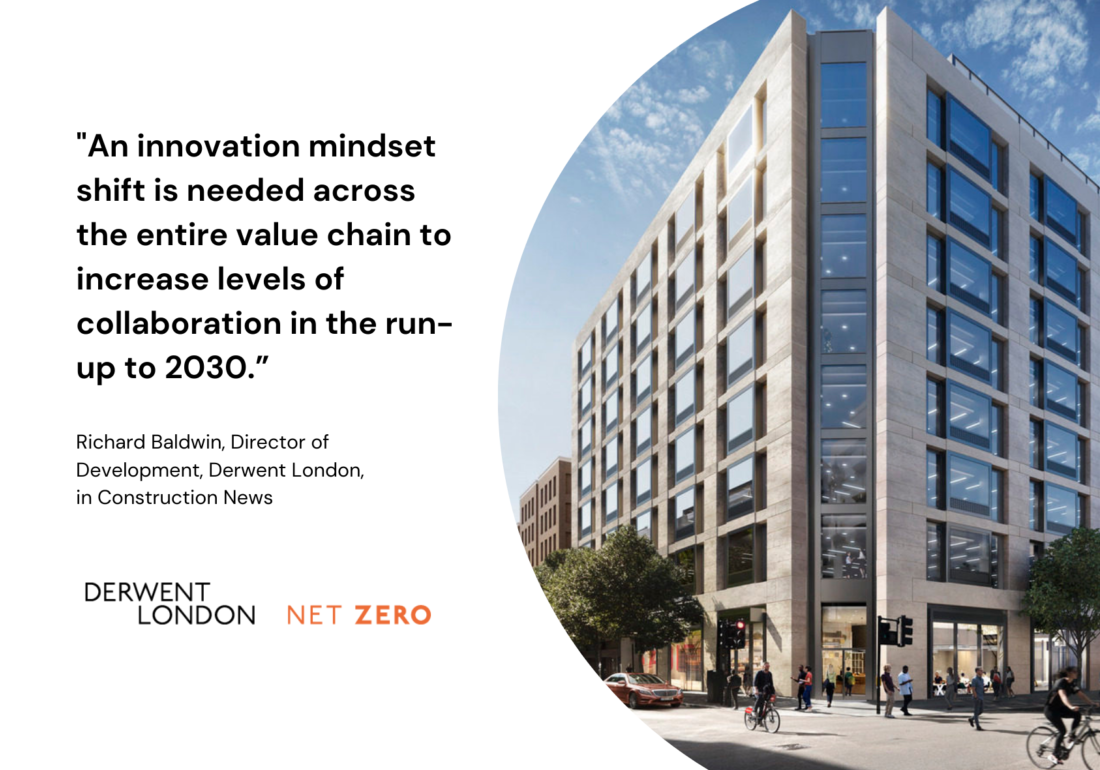 Acquired in 2007, this two-acre central London office, retail and residential complex was built in the 1960s heyday of modernism. With its carbon-rich concrete construction and clean-line air-conditioned offices, it envisioned a workforce arriving by fossil-fuelled cars to be conveniently parked in the vast empty chasm of its on-site car park, in a town planning strategy unencumbered by climate concerns. Roll on only 20 years and that planning vision had already begun to shift and now, we look to dedicate streets and spaces to people over cars, with the aim of reducing pollution and recognising the value these spaces offer to leisure, creativity and culture. The car park has offered a clean slate and additional value – not only providing more floor area but also creating people-focused spaces with better air quality and greater benefit to the community living and working in the area.

For the existing buildings, we had to weigh up the conundrum of retention against demolition, with the latter offering the best solution. We are building with reinforced concrete but looking at GGBS as a method of minimising the cement content in order to reduce embodied carbon. We are currently at around 600kgCO2/sqm and aiming to achieve 500kgCO2/sqm. As we continue to explore new opportunities to reduce embodied carbon, we are realistic that for now in the construction industry, offsetting with verified schemes remains part of the strategy, until the next best tech comes along.

To that end, our design approach to Baker Street aims to meet the challenge of embedding flexibility – building in generous floor to ceiling heights and soft spots as standard – working to our long-life: loose-fit strategy, Responsible Development Framework and Net Zero Carbon Pathway.

On operational carbon, the buildings will have all electric heating and cooling delivered by air source heat pumps and openable windows, in line with our all electric strategy for new builds and major refurbishments. The scheme also includes greywater recycling system to reduce fresh water consumption. The operational performance of the building will be monitored by built-in smart technology and via NABERS UK. Both measures will greatly enhance our understanding of how the buildings perform against our targets and how much operational energy and water is used – information we need not only so we can mitigate our Scope 2 emissions, but also our Scope 3 emissions, through helping our occupiers to reduce theirs.

This progress is reflected too in the building's targeted accreditations: NABERS UK 4; EPC 'A', BREEAM Outstanding and LEED Gold. They will also be WELL-enabled and aim for WiredScore Platinum. The residential components are set for BREEAM Very Good and Excellent and Home Quality Mark 4.5.

Many of the next steps the industry needs to take will require partnership with our adjacent sectors, including those that are most carbon-intensive. The future of concrete and steel will have huge implications on the built environment's efforts to decarbonise. An innovation mindset shift is needed across the entire value chain to increase levels of collaboration in the run-up to 2030.

How we design, plan, and use technology are central questions for the industry's journey to net zero. Building flexibility into the life cycle of our buildings is an important part of the answer, and sharing solutions is paramount to making collective progress. Only by working collaboratively with consultants, contractors and occupiers, will we find the innovative and scalable solutions to meet the demands of the climate challenge.