The Group has currently collected 80% of its September Quarter Day rent, which is higher than both the June and March 2020 quarters at an equivalent time. We have continued to receive rent in relation to those earlier quarters, June rent collected is now 84% compared with 70% when first announced on 7 July, with an additional 8% still to be received from agreed payment plans.

Our Q3 business update is due to be published on 5 November 2020.

September Quarter Day

To date the Group has received 83% of office rents, an 11% improvement over the equivalent figures released on 7 July for the June quarter and 6% higher than March. A further 7% is due later in the quarter with an additional 5% under agreed plans payable in 2021
We have now received 80% of the total rent demanded with 8% due later in the quarter and another 5% in 2021
Rent free periods have been granted on 1% of total rents, mainly in the retail and hospitality sectors
September quarter receipts include rent deposits of £46k
88% of service charges for the quarter have been received so far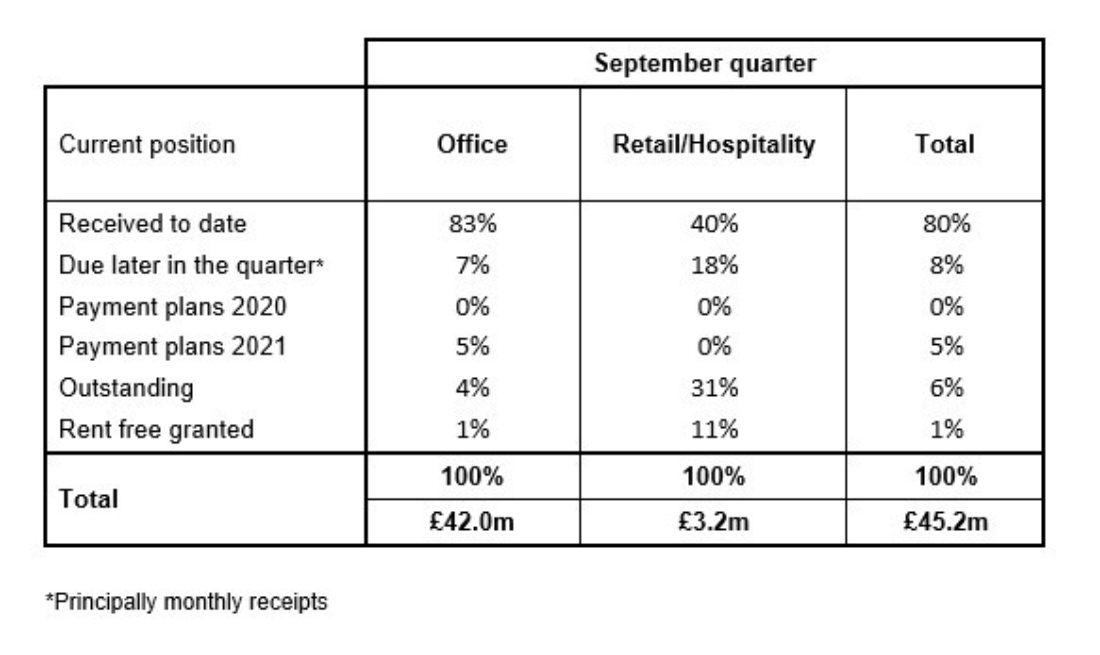 June and March Quarters updated

Since we reported on 7 July 2020, rents agreed to be paid later within the June quarter have been received. Consequently, we have now received 84% of the June quarter rents, with another 8% subject to agreed payment plans. This represents an improvement on the March quarter where we have now received 82% of rents with another 10% subject to payment plans.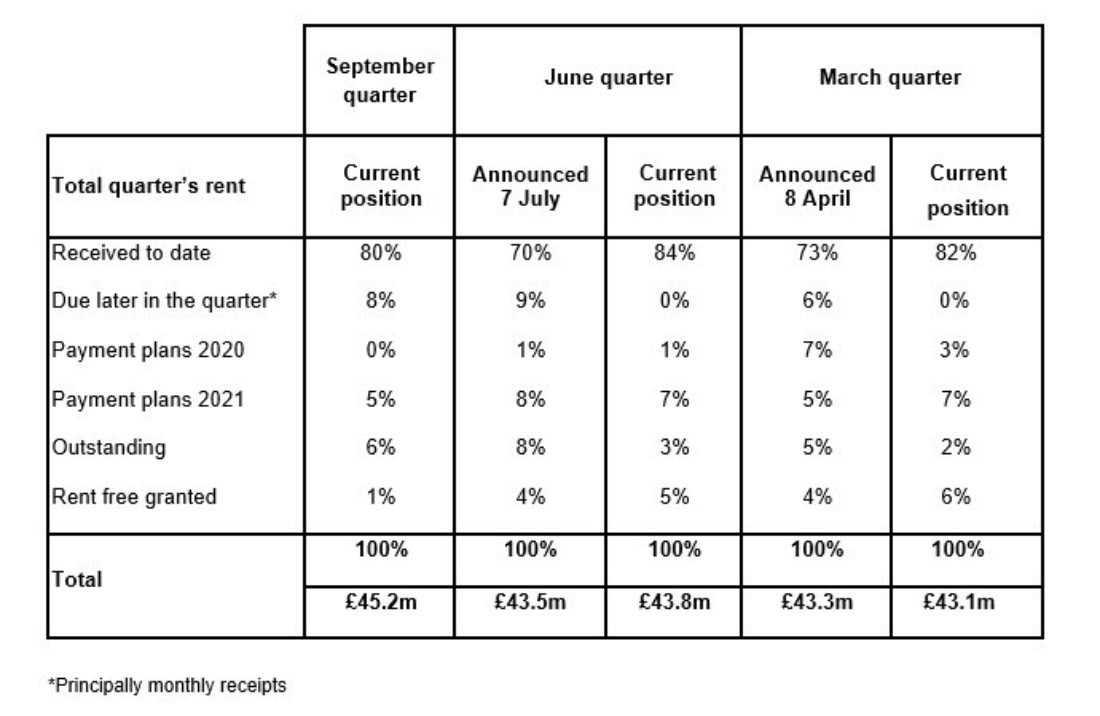 Update on lease regears and second half lettings

In August we reported that we were negotiating to regear leases with c.£10m of passing rent due to expire in 2020 and 2021. We have now signed on c.£8m, of which £7m related to expiries or breaks in 2021 equivalent to 16% of the expiries due that year. In addition, we are in active negotiations on a further £6m of income.

Since June we have completed £1.9m of new lettings. This includes the remaining 5,100 sq ft of offices at Soho Place W1, where Apollo Group has taken up its option on the original terms increasing its space to c.88,000 sq ft. In addition, UCL has taken a further 14,100 sq ft at 88-94 Tottenham Court Road W1.